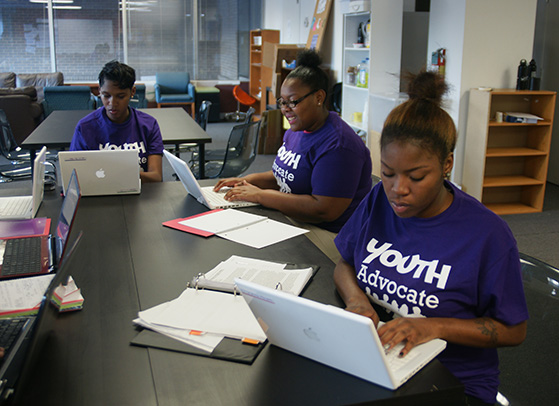 YWP employed more than 250 youth in part time jobs during the past year. Youth staff are organized into two issue-focused campaigns (Health and Poverty) and within those campaigns work on one or more work teams. All YWP programs include intensive capacity training, opportunities for increasing responsibility, work readiness training and skills building, and wages.  As an organization who works to build the leadership of youth who are struggling with economic hardship – providing wages and stipends is essential to enabling their participation in our work. Youth are contributing needed resources to struggling families and need to get ready for the workforce. YWP provides an environment that combines high expectations and meaningful responsibilities with flexibility and allowing for mistakes is key to the youth development and success. All youth receive work readiness training and management support, issue training, and stipends or wages. Training and positions are described below:
 
Work Readiness Training:  All YWP youth staff  receive 15-20 hours of work readiness training that includes: 1) How to communicate effectively (written, verbal, professional) and writing, grammar, reading comprehension; 2) How to solve problems and resolve conflicts; 3) Getting your work done (action planning, prioritizing, goal setting); 4) Understanding the work place (team work, organizational culture, job responsibilities, email and computer literacy); 5) Using data and research; and 6) Presenting yourself (public speaking, presentation, resume writing, interviewing, professional dress). In addition, they are closely supervised, receive weekly support, and be expected to perform a range of work duties including regular timely attendance, work planning, email communication, data collection, and team work. From a program effectiveness perspective, offering paid positions dramatically increases youth recruitment and retention rates, and program quality.  
 
Youth Positions:  Youth staff positions fall into four levels:
 
Youth Health Educators:  includes 250 youth each year from 16 DC public and charter schools. Peer educators receive more than 20 hours of training and must pass their Wrap MC certification. They work 4-6 hours a week including two training hours and two school-based education hours, and will be paid a stipend of $7.25 an hour, and receive the above Core Training. Focusing on sexual health education, educators organize education tables in schools about sexual and reproductive health, distribute free condoms to students conduct one-on-one educational sessions; provide education and service referrals, and collect data on condom distribution and one-on-one interventions.
 
Community Health Educators: includes 25-50 young adults each year from neighborhoods across the city.  Each month, Community Educators conduct 60-80 one-on-one educational sessions, distribute 150-200 condoms and refer 5-10 people to community based clinics. During phase two trainings, the educators will have an opportunity to educate their peers by using platforms such as Twitter, Facebook, Instagram and Snapchat to educate their peers and communicate.
 
Youth Health Trainers: include 20-30 teens each year who receive advanced training in peer education, popular education, meeting facilitation, discussion groups, and interactive training methods.  Trainers work 6-8 hours a week at $8.25-9.25 an hour and are responsible for coordinating school-based events, conducting classroom trainings, working with school-based staff, and conducting training for new Youth and Community Educators. Trainers run the Summer Training Institute. Communications: writing, designing of materials, social networking, website maintenance, blogging
 
Youth Advocates:  include 20-30 youth each year who receive advanced training in needs assessment, research, project design, government, testimony development and policy development and advocacy. Youth advocates work as part of Youth Working Groups, present testimony to DC Council, conduct research and service assessments, and develop youth programming. Currently, we have youth working on the following teams: foster care rights, emancipated youth services, educational equity, youth vote campaign, youth centers, health education, and youth employment.