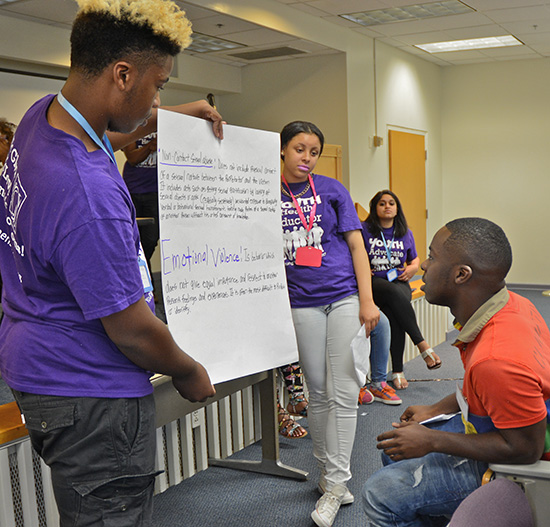 The Peer Health and Sexuality Education Project (PHASE) works to improve DC teens' reproductive health and reduce unplanned pregnancy by expanding comprehensive sexuality education, ensuring access to community and school based reproductive health care, and engaging teen women and men as peer educators and decision makers. As PHASE's largest program, the Youth Health Educator Program (YHEP) has trained and managed more than 300 youth educators who work in partnership with DC Public Schools and the Department of Health (DOH) to improve sexual health outcomes for DC youth through peer education, condom distribution, and by expanding sexual health education. Since October, YWP employed 207 youth who distribute 76,697 condoms (male, female, and flavored), conducted 21,356 educational interventions, and made 927 individual clinic referrals.
YWP's PHASE program engages youth on four levels: First, we employ youth and invest in their development!  We hire 200+ youth staff as educators and advocates each year that receive 150+ hours of training and work to educate youth, conduct research, and advocate for policies that support YWP's goals. Youth educators received extensive training in sexual health and HIV prevention, peer education, training, counseling, facilitation, adult-youth partnership, project development, data collection, and physical and mental health -- as well as -- work readiness, college prep, and academic strengthening. Peer educators are integrated into classroom health education, conduct one-on-one education and condom distribution, make referrals to school-based and community clinics and work to build relationships organize school-wide events, build a network of supportive adults in schools, and coordinate outreach for Wrap MC and school-based STI testing.
 
Next, YWP youth staff work side-by-side adult staff to advocate for policies and programs that increase rights, resources, and job opportunities for under-resourced youth in health, education, employment, and other areas. Youth staff trained 150 health teachers, collected data from more than 500 youth on health, violence, education, and other issues, cultivated more than 200 relationships with administrators and teachers in DC public and charter schools, presented more than 40 testimonies to Council Committees in health and education, and provided youth outreach for school-based STI-HIV testing. Finally, we are building a citywide network of well-trained, productive youth educators and as part of this – supporting the youth serving organizations that hire them.  In June 2014, YWP launched the DC-Peer Educators Network (DC-PEN), which provides technical assistance, training, curricula, and funding for youth educator stipends to organizations across the city so that they can hire youth and contribute to youth health outcomes.  
 
YWP works in close partnership with DOH staff to implement their community-based agenda:  YWP is a member of DOH's Youth HIV-STI Working Group and works closely with HAHSTA Director Michael Kharfen and Manger Veronica Urquilla. They are incredibly supportive and involved in our work, identifying outcomes and program strategies, training youth, and providing guidance on all levels. As part of this partnership, YWP assumes a significant part of the work for HAHSTA's school based work. The vast majority of condoms distributed and educational interventions made as part of DOH's Wrap MC program are done by our youth educators. Much of the school-based work that is contributing to the outcomes in HAHSTA's youth HIV plan – is done by our educators. Our program is shaped in direct response to HAHSTA's Strategic Plan and ensures that youth outcomes are met in the schools and among older youth at the community level.
 
PHASE is implemented through five objectives:
 
Objective 1: Build the leadership, reproductive health knowledge, and peer education capacity of 200 youth educators and advocates across the city, in all wards who educate youth on physical and sexual health, distribute condoms, conduct research, coordinate site based activities, and lead youth advocacy work. Youth staff receive extensive training and support in peer education, training, counseling, adult-youth partnership, project development, organizing, and advocacy as well as academic strengthening and work readiness and are organized into two groups with increasing hours, responsibilities, and wages.
 
Objective 2: Increase knowledge, skills, and attitudes on sexual and general health issues through school-based education including classroom presentations, workshops, and one-to-one education. Youth Staff reach 100-200 students each through one on one instruction, classroom presentations, workshops, and resource sharing.
 
Objective 3: Through DC Peer Educator Network (DC-PEN), build and support a citywide network of community based organizations (CBOs) that are committed to improving youth health outcomes through peer education.  In June 2014, YWP launched the DC Peer Educator Network (DC-PEN) to connect and support community based organizations working in partnership with youth who are committed to improving youth health outcomes.
 
Objective 4: In January 2016, YWP launched the Community Health Educator Program (CHEP) to reach older teens not in school and young adults. Each month CHEP youth will individually conduct 60-80 one-on-one educational sessions, distribute 150-200 condoms and refer 5-10 people to community based clinics.
 
Objective 5: Create Institutional change through advocacy and policy development: YWP advocates for policies and programs that expand reproductive rights and access, improve health outcomes for youth, provide employment and leadership opportunities, and integrate youth into decision making. YWP's health policy agenda is focused on laying the institutional groundwork to support full implementation of comprehensive sexual health education for DC youth through the public school system.