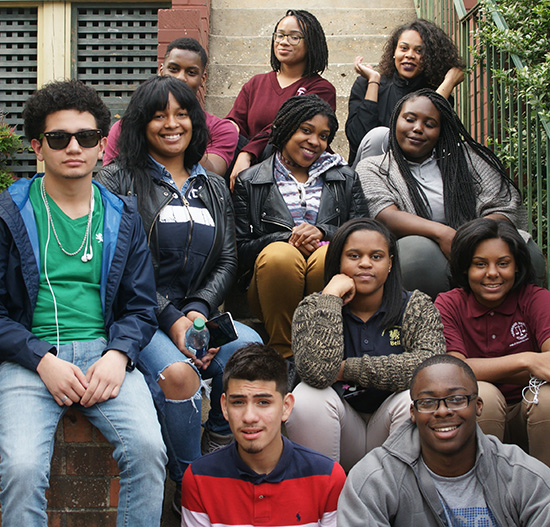 YWP works with 250 youth in the course of the year. About 20 percent of these youth are experiencing housing instability, 25 percent are system-involved or recently emancipated, and at least half are experiencing financial hardship, food shortages, poor living conditions, poor health, and educational neglect, unemployment, family conflict, or neighborhood violence. Throughout DC, significant numbers of youth are living in poverty, unemployed, and graduating from our public education system unprepared for college or adult life. These challenges are getting in the way of academic progress as is clearly documented in standardized test scores, truancy rates, and youth engagement.
Poverty: According to recent statistics in the Kids Count DC Data Center, 39 percent of children and youth ages 0-18 live with parents who lack secure employment, 27 percent live in poverty, 31 percent of children live in areas of concentrated poverty, and 55 percent of children live in single-parent families. This means that at least half of our students are living in conditions where parents have limited time and energy, family resources are stretched, neighborhoods do not have adequate access to fruits and vegetables, housing is unstable, and neighborhoods are not always safe.
Education for At-Risk Youth: 41,000 DC public school students have been designated "at-risk," which means they are in foster care, homeless, on public assistance, or a year behind in school. This is about half of the public school population, and an 11 percent increase from FY2015. Homeless, foster care, and at-risk youth are much more likely to be truant, have system conflict, drop out of school, and have lower academic performance. Homeless youth are twice as likely to drop out of school (73 percent do), more likely to be unemployed (81 percent are), and have higher levels of truancy, family conflict, and system involvement. (Interagency Council on Homelessness (ICH)), 2013)
Education: Youth are not engaged in their own education or demonstrating adequate learning. We can see the impact in graduation rates (61 percent), in subject proficiency (51 in math; 48 in reading), and truancy (42 percent of high school students).
 
Sexual Health: DC teen pregnancy rates continue to fall overall, but are still significantly above the national average in wards 7, 8, and 5.  Although teens report using condoms in high numbers (75 percent compared to 61 percent nationally), they are contracting STIs in high numbers. Recent data from the Department of Health indicates that rates of gonorrhea and Chlamydia are on the rise among teens and young adults.  From 2008 to 2012, there was a 4 percent increase in Chlamydia infection reports; 65 percent of the cases were women, and 70 percent were between 15 and 24(CDC, 2012). According to the latest YRBS data, more youth have had sexual intercourse (54 percent compared to 47 percent nationally), and are starting earlier (15 percent had sexual intercourse before age 15 compared to 6 percent nationally), and are having sex with more partners (22 percent of DC youth had sex with more than four partners compared to 15 percent nationally).
 
Foster Care: DC spends $246 million a year on a child welfare agency that directly serves 1,200 children and employs more than 1,000 adults.  Youth aging out of foster care lack the guidance, support, and resources necessary to sustain their lives post-emancipation. They experience homelessness, and unemployment at a high rate. In fiscal year 2014, 130 out of 344 youth ages 18-20 were employed; 37 out of 123 were employed at the time of aging out.  58 out of 344 eligible youth 18-20 were enrolled in college, and only two graduated.
 
Employment: Although regional unemployment is low, youth unemployment is at an all-time high at 50 percent for 16-19 years-olds, DC's rate is twice the national average (Brookings, 2010).  There are 21,000 youth 18-24 (33 percent) living in poverty,[1] 20,988 youth 20-24 are unemployed,[2] and another 12,000 youth ages 14-19 are in school and deemed at-risk by DCPS. But last year, DOES served 294 youth in year-round programs. Unemployed youth are more likely to become part of the street economy, more likely to be in the criminal justice system, more likely to end up contributing to our rising homicide rate, and more like to be unemployed later in life because they are not able to gain work experience and skills. [3] They have lower confidence, less social cohesion, and less self-reliance.
 
Nutrition: Youth do not have healthy food options, contributing to DC youth's high obesity rates.  Lower-incomes and poverty correlate strongly with poor nutrition and higher rates of obesity; 32 percent of DC youth are obese or overweight. These same youth lack access to healthy foods and are dealing with hunger. Only 25 percent of high school students actually eat breakfast every day; 11 percent of middle school students and 17 percent of high school students report going hungry at least once within the past 30 days due to lack of food at home (YRBS Surveillance Report, 2013).
 
Physical Health: Youth are not exercises or as far as we can tell, receiving adequate physical activity during gym class.  Seventy-two percent of high school students were not physically active at least 60 minutes per day on 5 days or more. And 32.9 percent of female high school students and 21.9 percent of male high school students did not participate in at least 60 minutes of physical activity on at least one day, within the past 7 days of the survey (CDC, 2014). Under resourced youth of color are much more likely to experience preventable illness (diabetes, high blood pressure).
 
Mental Health: Youth do not have access to quality mental health services, within their schools and communities, that are free of charge and easy to access. Children and youth struggle every day to understand and deal with high levels of stress, family instability, and trauma. contributing to 25.5 percent of high school youth claiming to have felt sad or hopeless almost every day for 2 or more weeks; 31 percent of high school females, and 19 percent of high school males felt so sad or hopeless almost every day for two weeks or more that they stopped doing some usual activities;
 
Conflict-Violence: Youth do not have enough skills to resolve interpersonal conflict.  Violence in our schools and communities continues to be part of the expectations of youth. Therefore 37.6 percent of youth stated that they were in a physical fight either in or outside of school; 20 percent of DC high school students carried a weapon in the past 30 days. Thirty percent of DC middle school students report being bullied on school property and 12 percent electronically during the past 12 months. (YRBS, 2013) Twenty percent of DC high school students carried a weapon in the past 30 days; 15 percent were in a physical fight on school property; while 38 percent were in a fight outside of school. Thirty percent of DC middle school students report being bullied on school property, and 12 percent were bullied electronically during the past 12 months.  Nine percent high school students reported being physically forced to have sex (YRBS, 2013).