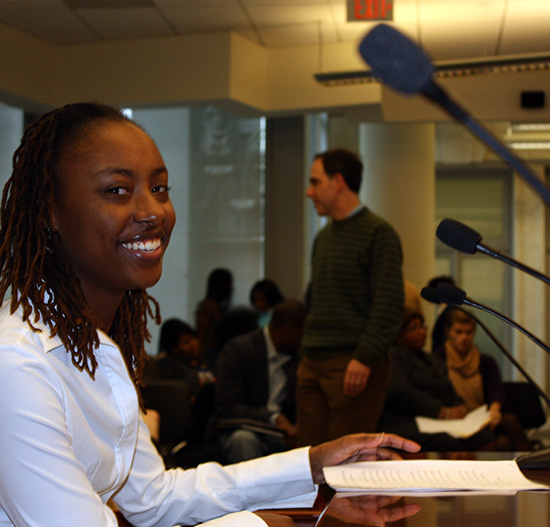 Since 2000, The Foster Care Campaign (FCC) has racked up an impressive list of policy and program initiatives that have significantly impacted the quality of life and opportunities for youth in care. Our work has expanded I the past two years to include youth who are experiencing neglect and hardship but are not in care. This includes foster youth, homeless youth, youth experiencing educational and other kinds of neglect at home, youth living in extreme poverty, youth who are part of the Department of Rehabilitative Services (DYRS) and youth who have recently aged out of care. All of these youth experience similar life circumstance and challenges. 
YWP has expanded foster youth rights and opportunities through the following work:
 
Led the development and passage of the Youth Rights and Responsibilities Amendment Act of 2012, signed into law on January 22,2013, which provides more than 40 rights in education, privacy, health, transportation, and other issues to DC foster youth.
 
Led the development and passage of the Foster Youth Transit Subsidy which will extend the $30 DCPS monthly student transportation card to 400 foster youth ages 19 and 20 starting October 1, 2013; Include link
 
Led the development and passage of internal Child and Family Services Agency policies that established a $1,464 a year clothing voucher system for youth in care, a $100 monthly mandatory allowance, and an increase the independent living stipend for youth in care starting November 2013.
 
Organized Yes Youth Can: Confronting the Challenges of Aging Out (1/22/09), a youth-led hearing held by the Committee on Human Service chair Councilmember Tommy Wells. Featuring more than 25 witnesses, the hearing examined the experiences and challenges of older youth in education, employment, and emancipation. "I'd like to acknowledge the Young Women's Project and how effective they are at having youth take part in their government and to really make changes," said Chairman Tommy Wells.  "It's certainly a model. I don't think we've had a better hearing." 
 
In 2001, working with the Office of the Deputy Mayor for Children, Youth, and Families – we helped develop and advocate for the passage of regulations for group homes (Chapter 24) and independent living program contractors (Chapter 26). These regulations provided first ever guidelines for congregate care conduct and monitoring, increased the quality of care for youth residents, and established youth rights in several key areas. Since 2003, YWP has monitored the quality of services in group homes and ILPs through surveys, workshops, and individual youth testimonials and report progress to City Council as part of the annual CFSA oversight hearing.
 
YWP has also worked alongside emancipated youth on the following issues:
 
Aftercare Program Development: In Winter-Spring 2016, YWP has worked as a member of the CFSA Aftercare Working Group, working with a small team of CFSA staff and practitioners to: 1)  Further develop new outcomes and benchmarks; 2)  Refine a new aftercare model and Scope of Work for FY17; and 3)  Develop possible modifications to Aftercare service delivery that would be feasible under the current contract The new scope of work for the FY17 Aftercare program — which includes the new outcomes and benchmarks — is now in the agency's contract development process. Over the next few months, we will be working to take the internal operational steps needed to support a true continuum of "transition-to-adulthood" services and supports for youth and young adults, ages 14 to 23. 
 
Young Adult Support Center:  YWP is continuing our work on the Young Adult Support Centers, moving toward a city-wide strategy that includes, outcomes, models, and a coordinated approach. We are using New York's Runaway and Homeless Youth service drop-In Center network as a model. These centers provide youth with essentials like food, clothing and (sometimes immediate shelter) as well as access to counseling, support, training, development and wellness activities.  As a first step, we are working with the Youth Program Manager at Department of Human Services to develop a plan for a coordinated DC network that would require DHS grant recipients to be part of a working group that would establish and enforce common standards, youth program offerings, services, and hours. Once already funded services are brought into compliance, we can assess and add new programming -- eventually building up to the youth-adult run support center model.
 
Field Study on the Office of Youth Employment: In December 2015, YWP released a report that documents several problems including poor program quality, high cost per youth, low numbers, lack of outreach and accessibility, and unwillingness to engage youth and other stakeholders and offers several recommendations.  In an effort to gather information about DOES youth programming, during the October and November, 75 YWP youth sent more than 200 email messages to DOES inquiring about youth program participation. None of the messages received a response. This study documents these problems and makes several recommendations about how to address them – ranging from the quick and cheap to those that are structural and will require a more significant of time, energy, and funding. There are several low-cost, low-investment changes that DOES-OYP could make in the next 0-6 months that would improve the numbers of youth that are enrolled and have access to their programming.  And within the year, there are several structural and program design changes that would significantly improve the quality and effectiveness of planning, programming, and community engagement. We are not releasing the report publically but have shared it with DOES leadership (DM Snowden, Director Carroll, OYP Director Price) and are hoping to get some commitments --- at least to addressing some of the immediate accessibility and engagement issues. No response yet. We would welcome your advice always.
 
The Youth Service Assessment: The Youth Service Assessment was completed by foster and homeless youth leaders on the FCC staff. Youth researchers made more than 200 calls to 20 youth-serving nonprofits, posing as themselves with adult staff listening in on speaker phone, to seek services in 84 percent of the calls – youth were not able to identify a service or a referral. Youth talked with staff 106 times and left 82 messages, 8 of which were returned: 11 referrals and 17 service leads were offered. The referrals were all blind and the service leads were invitations to attend in person program orientations, which would determine if a youth was eligible to receive services. There was no consistent phone intake-engagement protocol among or within the organizations called and no attempt to gather information from youth callers. Organizations with phone answering systems did not address youth directly on the menu. Many organizations do not answer the phone, do not address youth in their automated messages, and do not include hotline numbers.  Websites are underutilized to increase youth access and engagement. Some organizations said that they could only serve youth who lived in specific zip codes (the youth callers were homeless) or don't have any programs for youth. These barriers effectively screen out a huge majority of youth who need services.
 
Youth collected data through phone calls, guided by a written survey, and documenting interactions through a call log. All calls counted in this study were also witnessed by an adult staff member listening on speaker phone and taking notes on call details. Youth service sites were selected based on mission, size, program focus, and government contracting status. Most organizations included had a significant portion of their budget funded by government contracts; 19 out of 20 receive government contracts with a combined value of close to $80 million. YWP decided to do this study because many of the more than 100 youth we employ and work with each year are struggling to find services and opportunities in education, employment, housing, and aging out and in many cases not succeeding.  YWP shared these findings with several agency leaders, DC Council members, and the leadership of all of the nonprofits who were part of the study.